The Just Believe Fit dance class 'FIND YOUR GROOVE' for mature movers is joyful in more ways than one. Class teacher, the beautiful Joy, brings a wealth of dance experience as well as her joyful exuberance to the sessions. Here she talks about the benefits of dance, her own experience, and the unexpected joy in the Find Your Groove classes.

Experiencing the physical rigours of dance classes as a small child was for me never about how the movement looked, but how it made me feel: free, excited, flowing, calm, dynamic, graceful, expressive, and more! Then, when I progressed to dancing professionally,  movement was definitely also about how it looked, with the choreography working to unite a group as well as design individual shapes, pathways, and patterns.
There is nothing more rewarding as a teacher than seeing students master the physical skills, body actions, and expressive qualities firstly as an individual then that leads to the unity of movement in a group; a team working together for the success of each other.
'Find Your Groove participants have demonstrated all of the demands of memory retention, physical mastery of their body actions, calculations of rhythmical musicality, patterns and pathways within the space, as well as the emotional expression of movements. Ask them to show you 'putting out the fire' and 'Rocking Robin wings', to name a couple!
Participants shriek with delight when moving and proudly smile when their brains master the layers. Such an atmosphere of positivity that I have to say was not what some Find Your Groove participants expected when they first turned up to suss out the class. That attendees keep returning week after week is a testament to the fact that it has an atmosphere of positivity. 
If you have stopped yourself from believing that you could ever possess such skill, unison, and lots of laughs at the same time (while keeping fit) please visit our Find Your Groove class (in the studio or online during Covid-19 lockdowns) to discover the 'joy' of movement creation, expression, and execution that attendees have been enjoying.
It really does show you can learn and develop new skills every day.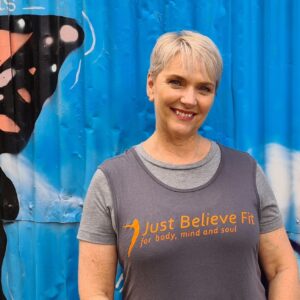 See you soon!
Joy Curtis
Read more about Joy…