VARIETY IS THE SPICE OF LIFE
PILATES, BARRE, YOGA, STRETCH, BODY CONDITIONING
DISCOVER A WAY OF MOVING THAT SUITS YOUR BODY
HOW DO I CHOOSE THE CLASS THAT IS RIGHT FOR ME?
Every person comes to us with a unique set of needs that will invariably change over time.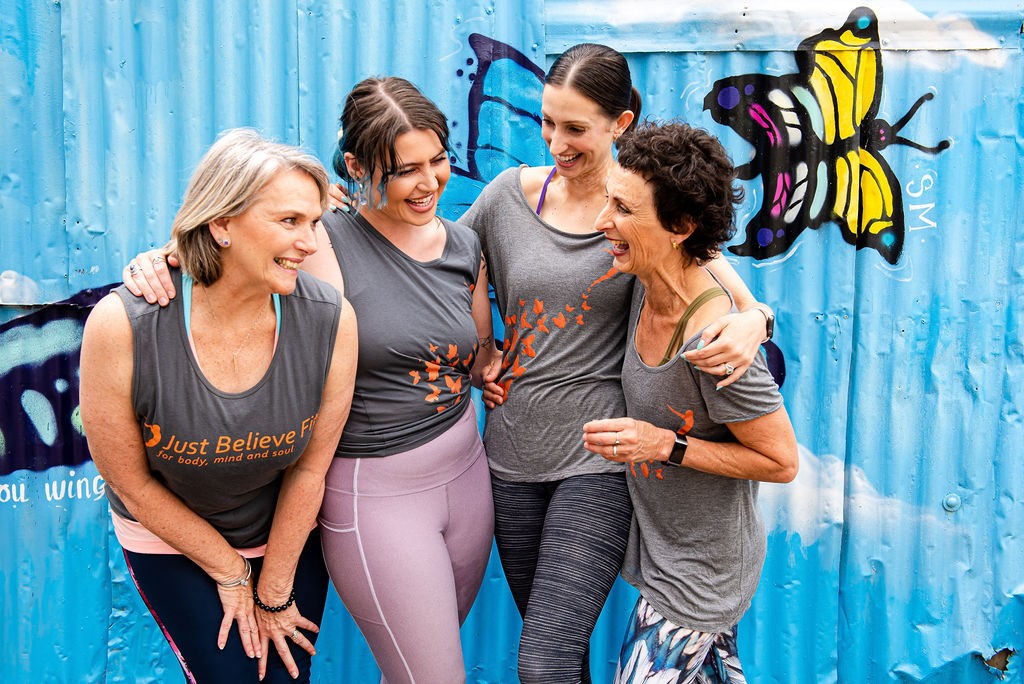 We are always adding new classes and short courses to our timetable so the suggestions below are a general guide. 
Please reach out to support@justbelievefit.com.au if you need further information on class selection
DIFFERENT TYPES OF CLASSES DO DIFFERENT THINGS FOR OUR BODIES
FLEXIBILITY, MOBILITY AND STABILITY TRAINING
Focus on stretching all muscle groups and building healthy joint action for mobility and ease of movement for everyday living.
Barre Yoga, Early morning classes, Pilates Flow, Pilates Flow Fundamentals, Pilates Fitness Circuit, Simply Stretch, Strong and Stable.
FUNCTIONAL FITNESS TRAINING
Focus on exercise that helps maintain good form, posture and alignment, with direct relevance to the way we move in the real world. It helps us with balance and stability, and makes our bodies adaptable to change.
Strong and Stable, Barre,  Pilates, Weights and Strength training courses, Strength Circuit, Balance it Out
BODY STRENGTH AND RESISTANCE TRAINING
Focus on building strength and endurance in all major muscle groups necessary for healthy, resilient bodies.
Barre, Pilates, Strong and Stable, Yoga Flow, Weights and Strength, Barre and Weights Fitness, Get Strong Circuit
Focus on raising and maintaining heart rate over manageable intervals to build the endurance for extended activity and improve energy uptake in the body.
Barre classes especially Cardio Barre, Yoga Flow, Strong and Stable, Cardio Barre Pilates Combo, Cardio Barre and Stretch, dance-based classes like Dance Fit Fun
Focus on resting and restoring energy to both mind and body to create balance in all aspects of work and life
Simply Stretch, Early morning Gentle Yoga Flow, Mindful Movement and Stretch classes.
ONLINE AND STREAMED CLASSES

Focus on doing online classes due to location or finances or just convenience. Covid-19 times have changed the way that we do fitness. Our online classes are continuing and some classes are being streamed from the studio. See the schedule for full details
Work Well Stretch and Strengthen, Mature And Moving, Chair Fitness, Chair Yoga, Pilates, Yoga for All, Simply Stretch and Release, Strong and Stable. 
GET YOUR EXERCISE DONE EARLY AND BE READY FOR YOUR WORKING DAY.
WORK WELL 30-MINUTE EXPRESS CLASSES ONLINE
Stretch and Strengthen
6.30am – 7am every morning
Monday: Gentle Yoga focus
Tuesday: Stability Focus
Wednesday: Pilates Focus
Thursday: Energising Yoga Focus
Friday: Flexibility Focus
LET US HELP YOU DISCOVER A WAY OF MOVING THAT YOU WILL LOVE...
Classes at Just Believe Fit are suitable for adults and teens who are generally healthy and without injury. Some classes are suitable for prenatal women, but it is important to check with Marisa before booking for the first time. Consultation with your physician or other health care professional is recommended before starting this or any other fitness program to determine if it is right for your needs. This is particularly true if you (or your family) have a history of high blood pressure or heart disease, if you have ever experienced chest pain when exercising, or have experienced chest pain in the past month when not engaged in physical activity, smoke, have high cholesterol, are obese, or have a bone or joint problem that could be made worse by a change in physical activity. Do not start taking classes if your physician or health care provider advises against it. If you experience faintness, dizziness, pain or shortness of breath at any time while exercising you should stop immediately.