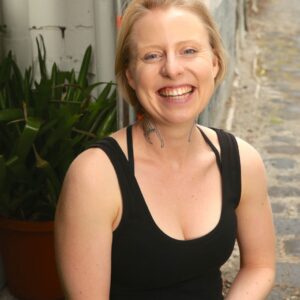 Initially drawn to yoga when seeking respite from intense bouts of anxiety, Cat completed her first teacher training in the Hatha Yoga tradition at the Mindful Yoga Academy in Spain in 2014. Since then Cat has completed further study in Trauma Informed Yoga practices, Spinal Health, as well as a Certificate III in Thai Yoga Massage, and now considers movement a lifelong contemplative practice.
Cat's teaching style is compassionate and inclusive with a central focus on anatomically informed movement practices that inspire curiosity, and are emotionally supportive.Every class is designed to help create space and invitation for an energetically balanced practice of self care, offering the opportunity to develop a more embodied experience from which to live your life both on and off the mat.
If you haven't experienced one of Cat Lane's heartfelt yoga flows, run, don't walk (but don't trip over) to one now! If you've spent time with Cat you'll know that heartfelt describes her to a T. In this, the latest of our instructor spotlights, you'll discover more about our lovely Cat. For example, want to find out what yallah habibi? means? Read on to find out why Cat is the one to ask.
When did you first fall in love with moving your body?
I think I've always found pleasure in movement, however my most formal movement practice began when I was four years old and was enrolled in ballet and jazz ballet classes. It wasn't until my early twenties that I discovered the gym and group classes, which I also loved. Eventually, I sought out yoga and my love affair with movement became much more serious.
Favourite type of class and why?
I love any class that is taught with intention, kindness and a sense of humour. Moving with others is almost always a pleasure.
How did you end up teaching?
I was alone overseas, unhappy and seeking some kind of purpose beyond making art and working a desk job. When I realised I was totally responsible for my own happiness, I decided to pursue what was gifting me with the most joy at the time: yoga.

Funniest teaching moment?
There's surely too many!
Favourite post-class meal?
Ohhhh I love all food too much to decide on one! Although any meal shared with a loved one is always a winning choice.
Favourite snack?
Flatbread that's swimming, I mean dipped, in black honey and tahini.
Or a super juicy, crisp apple.
Biggest thing you have learned that has changed your life?
To trust in love. To trust in myself. To trust in others, sometimes.
Personal mantra?
I breathe in gratitude. I breathe in hope.
Something about you people wouldn't know?
I'm currently learning Egyptian Arabic.
Yallah habibi means "let's go/let's do it my darling"